THE COTTAGE INN Lake Tahoe's Premiere Bed & Breakfast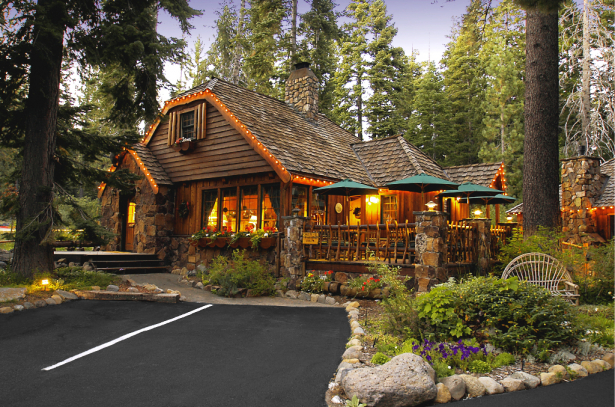 The Cottage Inn is Lake Tahoe's 'signature' vacation lodge by reputation … a superb lakeside location with access to the best private HOA beach on the West Shore The Cottage Inn is one of the most stylishly created; and financially successful lodging opportunity in Lake Tahoe. Each room has its own unique theme … all are available with fireplaces, televisions and video tape players, and each with its own special decor – whether you're anglers, skiers, honeymooners, or looking for a kitchenette, rock whirlpool bath or loft the Cottage Inn has a magical option. The Main Lodge is the original residence on the property. It was built by Ernest Pomin in 1938. It is decorated with "Old Tahoe" style furnishings. The sitting room is open to all guests for lounging by the fire, early morning coffee and today's newspaper, or enjoying the game table or television with popcorn, cookies, or a glass of wine (mulled wine in winter).
Please keep in mind that the Cottage Inn purchase includes not only a spectacular two acre West Shore parcel with private beach access, but a hugely profitable business opportunity with a million dollars in business assets. Owner-managed, this operation has historically grossed $300k to $400k in annual net revenues. It is competently run Lodge with a stellar reputation.
CALL or E-MAIL FOR PRICING DETAILS
Property Details
Priced at $7,000,000
1690 West Lake Blvd
Tahoe City, CA 96145
MLS#: waived from MLS
Square Feet:
11 buildings
Current Use:
Lodge
Occupants:
Guests
Acres:
2
View:
Strret and Lake
Zoning:
Commercial
Plan Area:
Sunnyside
Parking Spaces:
25
ADA Status:
Completed
BMP Status:
Completed
Sewer Status:
Completed
Loan Amt:
F/C
Gross Income:
CLA
Expenses:
CLA
Net Income:
$350,000+
Year Built:
1996 2004 Remodeled
Status:
OFF MARKET
Sub Status:
Standard