A Squaw Valley 'Primer'. August 15 2012
The planned expansion of 83 acres of mostly parking lot is named "Squaw Valley Olympic Village", on the plan submitted to Placer County , but is referred to as "The Village at Squaw" by the Squaw Renaissance website.
The development company, Squaw Valley Real Estate, LLC, has current plans to develop major portions of the parking lot, replace the locker room, Children's World, Olympic Village area, and Olympic House with ground floor commercial and upper floor condo-hotel units
The construction time frame is apprx 5 to 8 years.
A large indoor water park is being considered for the area roughly between the Funitel and what is now Children's World.
About 1200 new condo-hotel units are envisioned to be 10 and 12 stories high.
An application for approval of these plans, the Squaw Valley Specific Plan, has been submitted to the Placer County Planning Department.
Observations on the 'New" Squaw Valley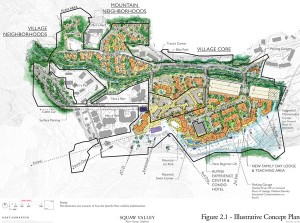 For a larger version e-mail www.tahoecommercial.com type Newsletter into the subject line
There are interesting distinctions in play between the development initiatives in Squaw Valley and the lack of them in Tahoe Basin (ex: Kings Beach has been a Re-developmet District for 16 years: the results = 0 re-development projects; the TRPA's Regional Plan, having expired in 2006, is still awaiting its 'Update' five years later – without which re-development of deteriorating commercial assets are 'hamstrung').
Both Squaw Valley and Northstar are continuing to bring quality accommodations, sophisticated marketing and general plans integrating residential, commercial and environmental mitigation. Not everyone is happy with new development putting 'more people' into expensive lodging that threatens change to the existing character of the community; but the alternative to well-regulated development is on display in the Tahoe Basin .
Squaw Valley will experience either a renaissance or a high-rise development transformation, depending on your point-of-view. No matter what your opinion, Squaw Valley is going to undergo significant change. KSL's general mgr, Andy Wirth, has made numerous frank and, to most, informative presentations to the local community. KSL is arguing the benefits of their master plan: sustainable commercial growth, elevating the Squaw Valley resort experience, increasing property values, providing jobs; but there is one 'little corner' of this master plan they cannot spin … and that is how things are going to change for Squaw Valley's local and commuting day skier. Being 'in the Valley' is going to command a high premium.